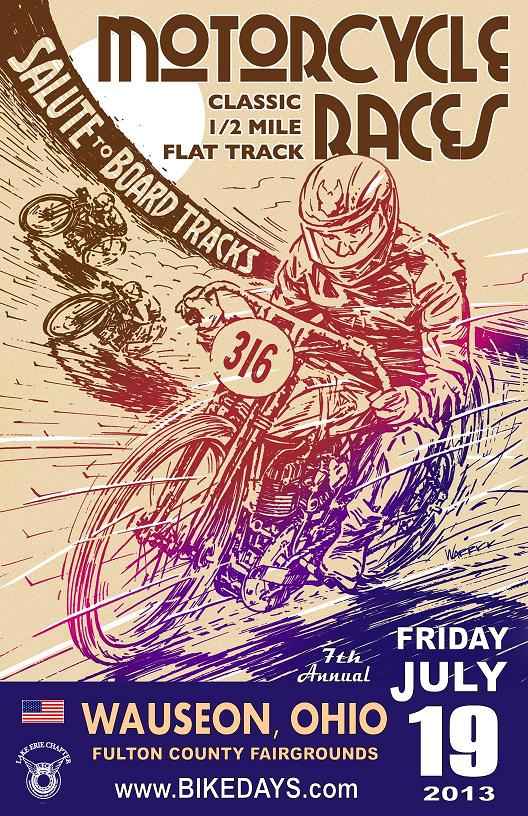 WAUSEON's VINTAGE RACE
BRINGS OUT THE BEST IN ALL OF US
July 19, 2013 By Larry Barnes
The Wauseon, OH and Davenport, IA vintage motorcycle races are not like any other race events you are likely to see. They are like a walk through time. Bikes and riders from the past 100 years show up to run handlebar to handlebar on beautifully prepared half mile tracks, with the unmistakable voice of Donnie Bargmann calling the action. Wauseon and Davenport races are part of the Flat Track Ministries and offer a prayer service to the riders.
July's Wauseon race featured 152 entries as old as Frank Rick's 1913 Indian board-tracker, up to the modern Speedway bikes competing in their own National Championship race. Riders in their mid-70's raced against teenagers in some classes, with no quarter given or asked. The stirring opening ceremonies included a parade lap by the Motor Maids, an invocation prayer, the Pledge of Allegiance, and the National Anthem, sung by racer Paul Bailey.
The Speedway and Handshift classes had repeat winners. Dan Weicht won his third consecutive Speedway Long Track National aboard a Jawa 500, and George Wills won his second in a row Handshift main on a Harley – this time without the gift from Roeder. Darryl Jakubowski won two classes this year with two different Triumphs. Matt Walksler won the Board Track class on a 1926 Harley-Davidson.
The crowd-pleasing third annual Roeder vs. Rall match race was won by George Roeder II on a Kelly George-built Indian Chief vs. Chad Rall on a Ben Breece-built Harley K-Model. The two sons of dirt track heroes Ronnie Rall and George Roeder, Sr. upheld their family honor.
While the full grandstand of spectators got to see 20 heats and eleven main events, much of the excitement was felt in the pits where riders gather and mingle. It's like s a family reunion of sorts. Everyone shares the same
passion of keeping dirt track alive, and keeping their old machines running. Everybody helps everybody with starting their machines and getting ready to ride. But when they take to the starting line, everybody gets serious. The track is no place for horseplay, and everyone tries their best to ride as fast as they can. It's a tribute to these experienced riders that the ambulance stayed parked all night.
Those people included guys like Russ Delaney, who is 83 years old and brought his own old racing pictures from the 40's; David Coon and his team of riders came up from Florida packed in an old motorhome; and 85 yr. old Jerry Callen, former AMA National rider #10, who put on a borrowed set of leathers from his son Mike, and took a few parade laps on the George-built Chief.
But make no mistake; the racing was serious. There were 3 row main events with 18 riders in the 70's Singles class, 18 in the Vintage Twin class, 14 Vintage 250/360 riders, and 16 boardtrackers… and every one of them wanted to be first rider into turn one!
Relating to class sizes, the Handshift Main seemed a bit sparse with only five guys on the line. Unfortunately, Indian riders Doug Horner, Larry Barnes, and Tom Knight were still putting on their war paint when their race took off without them. Word from the tribe is they will set up camp closer to the staging area next year.
Scotty Brown with his family and army of friends (Bike Days M-C Club) did an admirable job of promoting and staging the event. Even with the thermometer in the 90's, the track wasn't dusty. A thunderstorm was headed for Wauseon during the last few main events, then split creating a lightning show to the North and to the South allowing the program to still finish on time. The crowd went home happy, looking forward to the third weekend in July of next year!
EVENT INFORMATION
2013 WAUSEON NATIONAL M-C RACE
Event: Half Mile Antique Flat Track Motorcycle Racing
Classic Flat Track National Championship Series – Round 3
Speedway Long Track National Championship

During the Antique Motorcycle Club of America's 31st Annual Meet

Date: Friday, July 19, 2013 (Rain date - Saturday, July 20, 2013 at 12 noon)


Event Location: Fulton County Fairgrounds
8514 SR 108
Wauseon, Ohio 43567
Directions: Ohio Turnpike Exit 34 – Go ¼ mile north on State Route 108 to fairground entrance. (Northwestern, Ohio)
Pit Gate: North Gate for entrance into the pits. (look for signs)

Promoter: Bike Days LLC Motorcycle Club
Contact: Scotty Brown
Phone: (330) 837-5694
Website: www.bikedays.com Email: bike.days[at]yahoo[dot]com

Mailing Address: Bike Days LLC
1245 Cleveland St SW
Massillon, Ohio 44647

Schedule: Friday, July 19, 2013
10:00 am Pit Gate Opens – (North Track Gate)
Registration Opens - Bike Days Rider Registration trailer (pit area)
1:30 pm Registration Closes
1:40 pm Prayer Service - Christian Flat Track Ministries (Staging Area)
2:00 pm Riders' Meeting @ Registration Trailer (all riders must attend)
General Admission gates open (Grandstands)
2:15 pm Practice by class order posted in the pits.
4:30-5:45pm Heat races will start, same order as practice schedule. Be ready to race.
6:30 pm Opening ceremony.

General Admission: Adult $20.00
(Grandstands) Kids Ages 6-12 $5.00 and must be accompanied by an adult
Ages 5 and under FREE and must be accompanied by an adult

Pit Pass: Adult $25.00
(Riders & Crew) Ages 6-12 $10.00 and must be accompanied by an adult


Wristbands: Your wristband is your event ticket/pit pass and must be worn at all times.
If you leave the facility, you must have it on to re-enter. This is your gate ticket. Please do not take it off.

Entry Fees: Award Classes: Pre-Entry $30.00 per class (postmarked on or before June 15, 2013)
Post Entry $35.00 per class

Cash Classes: Pre-Entry $45.00 per class (postmarked on or before June 15, 2013)
Post Entry $50.00 per class

Pre-Entry Deadline: June 15, 2013 (postmarked) Sorry no refunds or cancellations.
Entry Form Page: click here
Bike Days LLC reserves the right to accept or reject any and all race entries.
The race pre-entry is not a pit pass. Riders and crew will continue to purchase pit passes at the pit gate entrance upon arriving at the fairgrounds.
Pre-Registered Riders are required to "check in" at the Bike Days Rider Registration trailer between 10:00 am and 1:30 pm.
Event T-Shirts:
Each rider that pre-registers by June 15, 2013 (postmarked) will receive one FREE Bike Days t-shirt.
Please remember to indicate your t-shirt size (*Adult small, medium, large and extra large only). Please enclose $5.00 extra for size 2XL. Additional t-shirts may be purchased in the pit area.

Release of Liability: You are responsible for your own safety. All persons entering the pit area must sign the liability release waiver.
Parents or legal guardians must sign the release for children under 18 years of age.

Pit Area for "direct drive" motorcycles. There will be a specific pit area assigned for Speedway and Board Track. Signs will designate area.

Number Plates: Number plates must be located on the front and left side of the bike. Numbers must contrast with color of plate (example: white plate with dark numbers).
Please make sure they are readable so the scorekeepers can score your number correctly. If you do not have a readable number on the front and left side, you will not be scored.
Duplicate numbers in a class will be asked to add an extra number or letter to their plate.

All classes of motorcycles must have working handlebar mounted kill switch. Please baffle open exhaust.

Awards – Checkered flag to first place winners and plaques awarded to second and third place.

NO Pit Racing. - 5 mph only in the pits.

Camping - Racers and crew are permitted to camp overnight in their pit area. No water or electric hook-ups. No campfires. Prohibited: fireworks, firearms and glass containers.

Food Concessions – Available in the pit area.
Christian Flat Track Ministries (CFTM) - Adam Phillips (CFTNCS) and Bill Goebel (Wauseon National).

The Wauseon National Meet is hosted by: Lake Erie Chapter, Maumee Valley Chapter, Ohio Valley Chapter and the River Valley Chapter.
Over 500 dealers vend parts and motorcycles that are over 35 years old. There are field games on Saturday morning, a Saturday night barbecue banquet,
and a judged antique bike show on Sunday morning. For vendor pre-registration contact Fred Davis 419-929-0291.

General Information is located at Rider Registration. Lost & Found is located at Rider Registration.

Hotel information: www.hotel-guides.us/ohio/toledo-oh-hotels.com
Pets: All pets must be on a leash. No vicious or barking pets permitted.



ANTIQUE MOTORCYCLE CLASSES
2013 WAUSEON NATIONAL RACES
1-BT
BOARD TRACK – TEENS THRU 1928
1. No brakes.
2. No gearbox or clutch (if running, transmission must be locked in one gear).
3. Rolling start.
4. Wheels & Tires: 28 x 2 1/4 ribbed racing tires on clincher rims or 28 x 3 tires on clincher rims or 21 x 3 Avon-style ribben Speedmaster tires on 21 inch drop-center rims. Button tread or Non-Skid clincher tires can also be used.
5. Handlebars must drop below the horizontal plane of the motorcycle.
Click here for: Guidelines to Building a Board-track Racing Motorcycle
2-LW165
165cc LIGHTWEIGHT – 1948-1966
1. Rear brakes required – no front brakes.
2. Years of bikes are 1948-1966 Harley-Davidson.
3. 1948-1966 engines.
4. Stock frames from 1948-1966 hard tail or swing arm frame. Frame may be braced for extra support.
5. You must use stock cylinders 1948-1966, but may alter intake and exhaust ports.
6. Must run stock gas tank.
7. No reed valves intake.
8. You may change the head, carburetor, exhaust pipes, wheels, handle bars, seat and front end.
3-BRKL250
BRAKELESS FOOT SHIFT 250cc THRU 1967
1. No brakes, no aftermarket swing arm frames.
2. 250cc short track and ½ mile machines.
3. Engines produced 1967 model year and before (examples: Triumph Cub, BSA C-15, Honda Hawk, Bultaco Metisse).
4. Aftermarket rigid frames such as cates and sonic weld may be used.
4-BRKL500
BRAKELESS FOOT SHIFT 500 OHV – 750 SV THRU 1967
1. No brakes and rigid frame.
2. Foot shift and hand clutch.
3. 750cc side valve, 500cc overhead valve.
5-HS
HAND SHIFT –1936 THRU 1951
1. No brakes and rigid frame.
2. Hand shift and foot clutch.
6-V250/360 (CFT)
VINTAGE 250/360 THRU 1981
1. Rear brake required.
2. Air cooled engines singles or twins.
3. Two stroke or four stroke motors.
4. Carburetor size maximum - 36mm on 4stroke and 40mm on 2stroke.
7-70'sSingles (CFT)
SEVENTIES SINGLES THRU 1980
1. Rear brake required.
2. Honda Ascot's are legal.
3. Must be a twin shock frame.
8-80'sSingles (CFT)
EIGHTIES SINGLES THRU 1989
1. Rear brake required.
2. Air cooled single.
9-Vintage Twins (CFT)
VINTAGE TWINS THRU 1983
1. Rear brake required.
2. Twin shocks on XR750 and RS750.
3. 42 mm forks are legal.
4. No larger than a wm5 rear wheel.
10-SPW
SPEEDWAY 500cc
1. No brakes
2. Methanol fuel.
3. 19"or 22" rear wheel legal.
4. Single or 2-speed trans. legal.
5. Speedway or Long Track chassis legal.
Award Classes - $30.00 pre-entry ($35.00 post-entry - postmarked after 6-15-13)
Cash Classes - $45.00 pre-entry ($50.00 post-entry - postmarked after 6-15-13)
YouTube Video from the Wauseon National
Wauseon National M-C Race 2012 - Mia & Chew
Wauseon Racers - Pusherman Racing
Thor racing @ Wauseon - Wheels Through Time
Field Games @ Wauseon - Wheels Through Time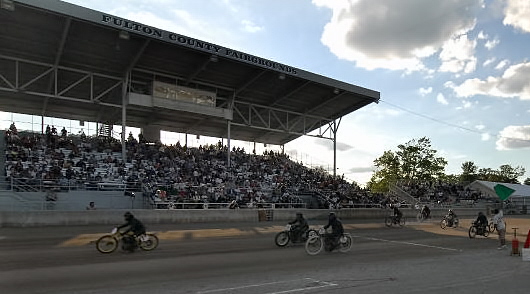 The Board Track class (teens through 1928) take to the track at Wauseon.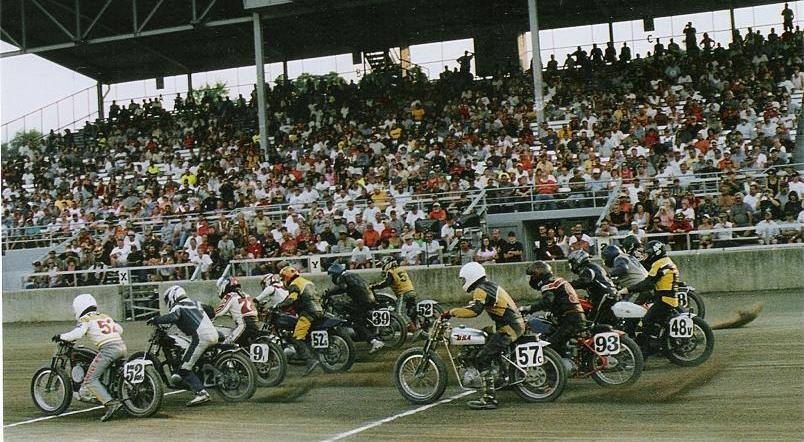 Start of the 500 Brakeless Final in Wauseon.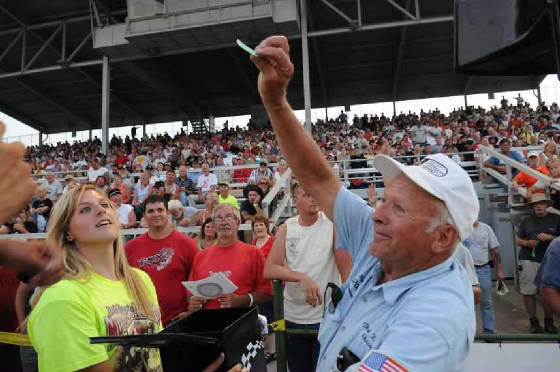 Three time Daytona Winner and 2010 Wauseon National Grand Marshal Dick Klamfoth
helps out with the raffle and pulls the winning ticket.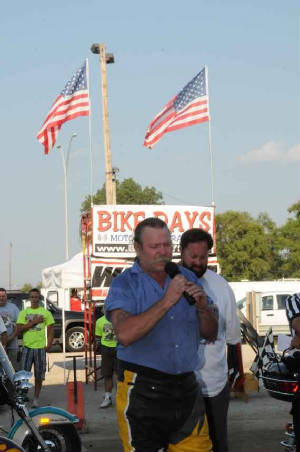 Paul Baily sings the National Anthem.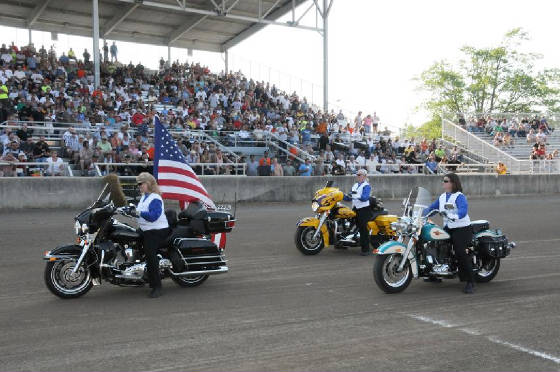 The Motor Maids Parade Lap during Opening Ceremonies.

Click on the photo to see the TV26 interview