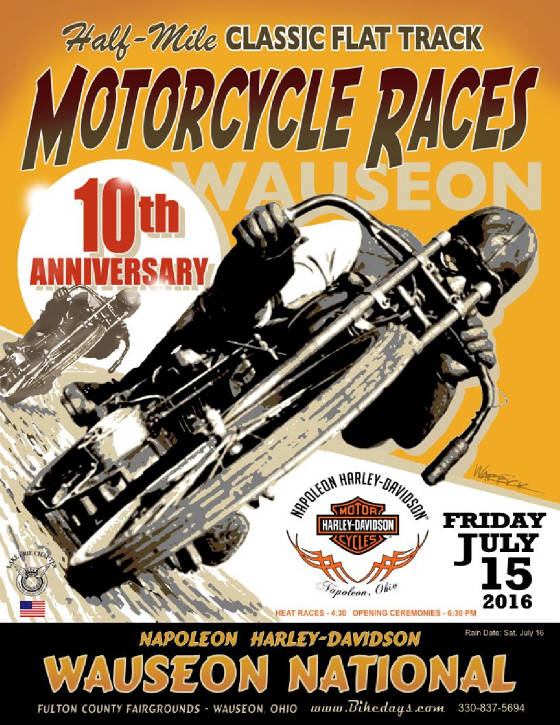 WAUSEON NATIONAL M-C RACE
FRIDAY - JULY 15, 2016 * Results *
Fulton County Fairgrounds - Wauseon, Ohio

BOARD TRACK
1 MATT WALKSLER WAYNESVILLE NC HD 22
2 JOHN RHODES RICHMOND VA EXC 26x
3 WAYNE ALBERTSON EGG HARBOR CITY NJ EXC 0
4 BOB TIMMONS VISALIA CA HD 26
5 MICHAEL LANGE BIG BEND WI HD 21x
6 KURT MERTENS COLBY WI HD 23
7 KENNETH CURTIS LEICESTER NC HD 14
8 KRIS THOMPSON LINCOLN NE HD 58
9 KORY POSTOTNIK MILWAUKEE WI HD 74
DNS BRIAN MERTENS BIRCHWOOD WI HD 33
DNS JOHNNY MERTENS TRIPOLI WI HD 23x
DNS ERIC MERTENS COLBY WI HD 24
DNS BILL RODENCAL WAUKESHA WI HD 67
HAND SHIFT
1 TERRY VESTAL TWIN LAKES WI HD 93
2 DEVON SIXT HILLSBOROUGH NJ HD 77
3 DOUG HORNER GATES MILLS OH IND 53h
4 BRANDON SNIDER HD 392
5 ATSUSHL YASUL TOKYO JAPAN HD 6
6 BRIAN GOLDEN BARRINGTON NH HD 48
7 JOHN RHODES RICHMOND VA EXC 26x
8 ERIC FLOECK LEBANON NJ HD 18x
9 FRANK RICK NEW HOLSTEIN WI HD 88
10 GREG GIESEY PITTSVILLE MD HD 3f
11 ROB DICK SWANTON OH HD 8
DNF KLETUS MURIN ELKTON MD HD 17
DNF JEFFREY BAER SELLERSVILLE PA HD 33
DNS MATT WEAVER COSHOCTON OH IND 60
DNS JUSTIN WALLS GROVE CITY OH HD x

LIGHTWEIGHT H-D 165cc
1 WAYNE ALBERTSON EGG HARBOR CITY NJ HD 00
2 JIM QUINLAN NEW PHILADELPHIA OH HD 49
3 LARRY GILLESPIE NASHPORT OH HD 37g
4 ALAN LYONS SPRINGFIELD IL HD 65
DNS CRAIG BRECKON SPARTA MI HD 77
250 BRAKELESS
1 DARRYL JAKUBOWSKI HANOVER PA TRI 43
2 JOHN R BOVA WADSWORTH OH BUL 35
3 RICH COATES CHARDON OH HON 70
4 BARRY BAKER GROVE CITY OH BUL 44s
5 MIKE ELLER NEW PORT RICHEY FL HD 83d
6 BRIAN DICKINSON GRASS LAKE MI BSA 24
7 RANDY HASSLER ST LOUIS MO BSA 68r
8 JOE BARNES FAIR HAVEN MI BUL 82
9 RAY PRINCE EASTLAKE OH KAW 07
DNS GREG BLAGUS PLYMOUTH MI BSA 50
500 BRAKELESS
1 DARRYL JAKUBOWSKI HANOVER PA TRI 43
2 CHAD RALL MANSFIELD OH HD 52
3 TERRY VESTAL TWIN LAKES WI HD 27
4 GENE ATHERTON CONSTANTINE MI TRI 28
5 JAKE ZENDER TWIN LAKES WI TRI 71
6 DANNY VRANA RANDOM LAKE WI HD 4
7 PAUL BAILEY LIBERTY CENTER OH TRI 52g
8 ALAN LONNEVILLE TWINSBURG OH TRI 9f
9 RON ATHERTON WHITE PIGEON MI TRI 81
DNS LARRY ERICKSON SO FALLS SD HD 84
DNS JOE GIBBS INTERLOCHEN MI BSA 48v
SPANISH ERA
1 TOM HUCKS ALLEN MI BUL 52
2 JOHN TEJCHMA MUSKEGON MI BUL 82
3 JAMES KERESTES WILLARD OH BUL 56
4 DOUG HORNER GATES MILLS OH BUL 4l
DNF DON BLYAR JR. CANTON OH BUL 2f
DNS CHARLIE ROBERTS SPRINGFIELD IL BUL 64
DNS BRETT MILLER WESTERVILLE OH BUL 44f
VINTAGE 250/360
1 DAN MCROBERTS HARRIETTA MI CA 7f
2 JEFF BULLINGTON HARTSVILLE TN BUL 82
3 ZACHERY KERESTES MANSFIELD OH YAM 10
4 LONNIE VANDERPOOL MORENCI MI YAM 90
5 JOHNNY BOVA I WADSWORTH OH KAW 35
6 NEIL PERRY CANFIELD OH PD 24f
DNF BRIAN DICKINSON GRASS LAKE MI BSA 24
DNF CRAIG BRECKON SPARTA MI HON 77
DNS GREGORY BOYD AKRON OH HON 75
DNS TED SMITH DELTA OH HON 40
DNS CHARLIE ROBERTS SPRINGFIELD IL BUL 64
DNS BRETT MILLER WESTERVILLE OH BUL 44f
DNS MICHAEL LAFOLLETTE LINCOLN PARK MI HON 57
70's SINGLES
1 THOMAS ENGLEHART NEWARK OH HON 73f
2 CODY TOLES LAPEER MI HON 30
3 DARRYL JAKUBOWSKI HANOVER PA HON 93b
4 NATHAN LONG URBANA OH YAM 23l
5 TOM HICKS ALLEN MI BUL 52
6 JUDSON LINDER SALEM OH HON 31f
7 DAN MCROBERTS HARRIETTA MI HON 33
8 DENNIS GOYER TROY NY YAM 611
9 GREGORY BOYD AKRON OH YAM 75
10 LARRY SOLES STRYKER OH YAM 169
11 COLTON SOLES STRYKER OH HON 46
12 LONNIE VANDERPOOL MORENCI MI YAM 90
13 TOM LEWIS RAWSON OH HON 31
14 STEVE HEILMAN CYGNET OH HON 80
15 ADAM KIRIAN BOWLING GREEN OH YAM 92
16 CHRIS WITYK STRYKER OH YAM 23
17 ROGER FALASCO SOLON OH HON 40
DNS TONY MOORE URBANA OH YAM 12f
80's SINGLES
1 DANNY MURRE BEAVER DAM WI ROT 60
2 STEVE KASTEN HATLEY WI YAM 59k
3 THOMAS ENGLEHART NEWARK OH HON 73f
4 DAVE WOODS FINDLAY OH ROT 82f
5 CLINT ERICKSON SIOUX FALLS SD ROT 42k
6 JEFF BULLINGTON HARTSVILLE TN ROT 69b
7 GREGORY LUPICA NORTH ROYALTON OH ROT 57
8 TIM HAGAR CELINA OH ROT 22f
9 JOSEPH MAHER BISHOPVILLE MD ROT 80
10 JEFF HIERS FORT WAYNE IN ROT 11
11 DAVID MALLOY CORUNNA MI HON 31
12 NEIL PERRY CANFIELD OH ROT 24f
13 KIRT EMERICK LIMA OH ROT 37
14 BRAD HAAS PITTSBURGH PA ROT 75
15 DENNIS GOYER TROY NY ROT 611
16 DARRYL JAKUBOWSKI HANOVER PA HON 93b
17 DUSTY VESTAL CHELSEA OK ROT 33
18 NICK EVANS GALION OH ROT 44f
VINTAGE TWINS
1 GEORGE ROEDER II MONROEVILLE OH NOR 66
2 CHAD RALL MANSFIELD OH TRI 52
3 STEVE KASTEN HATLEY WI YAM 59k
4 ERIC KOLENDA CALEDONIA MI TRI 15
5 CLINT ERICKSON SIOUX FALLS SD HD 57
6 SKIP WERTZ WHEELER MI TRI 95
7 KENNY MAXFIELD MORENCI MI YAM 4m
8 CHRIS PATTERSON PLEASANT HILL IA YAM 73
9 KLETUS MURIN ELKTON MD HD 17
10 JAKE ZENDER TWIN LAKES WI TRI 71
11 EUGENE QUIRAM DEPEW NY YAM 89
12 DEVIN PFEIFFER METAMORA MI YAM 10
13 TONY GIORNO SALEM WI YAM 27
14 PETER WAJDA AKRON NY NOR 102
15 BILL DUNLAP SYCAMORE OH YAM 66d
16 JUSTIN THOMAS GRAND RAPIDS MI YAM 57j
17 STEVE MURRAY GRAND BLANK MI YAM 51
18 MATT GEORGE RUNNELLS IA HD 65
SPEEDWAY - B MAIN
1 JOHN BUSLER GARFIELD OH JAWA 6
2 JON MASSIE WOOSTER OH JAWA 77
3 MICHAEL CALLEN GALESBURG MI JAWA 33e
4 MICHAEL DECHAMLAIN DETROIT MI JAWA 63
SPEEDWAY LONG TRACK NATIONAL CHAMPIONSHIP - A MAIN
1 KYLE LEGAULT ONTARIO CANADA GM 11
2 CHAD RALL MANSFIELD OH JAWA 52
3 DANIEL WEICHT NORTH WEBSTER IN JAWA 30
4 JEFF TRETERA CLEVELAND OH JAWA 76
5 CHRIS HATHAWAY SYRACUSE IN JAWA 82
6 HEATH HESTON BELLVILLE OH JAWA 4X
EVENT INFORMATION
WAUSEON NATIONAL M-C RACE
Event: Classic Flat Track Half Mile Motorcycle Racing and the Speedway Long Track National Championship
During the Antique Motorcycle Club of America's 34th Annual Meet

Date: Friday, July 15, 2016 (Rain date - Saturday, July 16, 2016 at 12 noon)


Event Location: Fulton County Fairgrounds
8514 SR 108
Wauseon, Ohio 43567

Directions: Ohio Turnpike Exit 34 – Go ¼ mile north on State Route 108 to fairground entrance. (Northwestern, Ohio)

Pit Gate: North Gate for entrance into the pits. (look for signs)

Promoter: Bike Days LLC Motorcycle Club
Contact: Scotty Brown
Phone: (330) 837-5694
Website: www.bikedays.com Email: bike.days[at]yahoo[dot]com

Mailing Address: Bike Days LLC
1245 Cleveland St SW
Massillon, Ohio 44647

Schedule: Friday, July 15, 2016
10:00 am Pit Gate Opens – (North Track Gate)
Registration Opens - Bike Days Rider Registration trailer (pit area)
1:30 pm Registration Closes
1:40 pm Prayer Service - Christian Flat Track Ministries (Staging Area)
2:00 pm Riders' Meeting @ Registration Trailer (all riders must attend)
General Admission gates open (Grandstands)
2:15 pm Practice by class order posted in the pits.
4:30-5:45pm Heat races will start, same order as practice schedule. Be ready to race.
6:30 pm Opening ceremony.

General Admission: Adult $20.00
(Grandstands) Kids Ages 6-12 $5.00 and must be accompanied by an adult
Ages 5 and under FREE and must be accompanied by an adult

Pit Pass: Adult $25.00
(Riders & Crew) Ages 6-12 $10.00 and must be accompanied by an adult


Wristbands: Your wristband is your event ticket/pit pass and must be worn at all times.
If you leave the facility, you must have it on to re-enter. This is your gate ticket. Please do not take it off.

Entry Fees: Award Classes: Pre-Entry $30.00 per class (postmarked on or before June 11, 2016)
Post Entry $35.00 per class

Cash Classes: Pre-Entry $45.00 per class (postmarked on or before June 11, 2016)
Post Entry $50.00 per class

Pre-Entry Deadline: June 11, 2016 (postmarked) Sorry no refunds or cancellations.
Entry Form Page: click here
Bike Days LLC reserves the right to accept or reject any and all race entries.
The race pre-entry is not a pit pass. Riders and crew will continue to purchase pit passes at the pit gate entrance upon arriving at the fairgrounds.
Pre-Registered Riders are required to "check in" at the Bike Days Rider Registration trailer between 10:00 am and 1:30 pm.
Event T-Shirts:
Each rider that pre-registers by June 11, 2016 (postmarked) will receive one FREE Bike Days t-shirt.
Please remember to indicate your t-shirt size (*Adult small, medium, large and extra large only). Please enclose $5.00 extra for size 2XL. Additional t-shirts may be purchased in the pit area.

Release of Liability: You are responsible for your own safety. All persons entering the pit area must sign the liability release waiver.
Parents or legal guardians must sign the release for children under 18 years of age.

Pit Area for "direct drive" motorcycles. There will be a specific pit area assigned for Speedway and Board Track. Signs will designate area.

Number Plates: Number plates must be located on the front and left side of the bike. Numbers must contrast with color of plate (example: white plate with dark numbers).
Please make sure they are readable so the scorekeepers can score your number correctly. If you do not have a readable number on the front and left side, you will not be scored.
Duplicate numbers in a class will be asked to add an extra number or letter to their plate.

All classes of motorcycles must have working handlebar mounted kill switch. Please baffle open exhaust.

Inclement Weather - In the event of rain or other conditions, it may be necessary for the Race Director to adjust the order of the event schedule, practice session, the length of the races, or to stop the program completely. Should a meet be stopped with less than 50% of the entire program completed, the rain date may be used. Should a meet be stopped with 50% of the entire program completed, the program may be considered complete and the entire purse will be paid.

Awards – Checkered flag to first place winners and plaques awarded to second and third place.

NO Pit Racing. - 5 mph only in the pits.
Pets: All pets must be on a leash. No vicious or barking pets permitted.

Camping - Racers and crew are permitted to camp overnight in their pit area. No water or electric hook-ups. No campfires. Prohibited: fireworks, firearms and glass containers.

Food Concessions – Available in the pit area.
Common sense decisions of the track officials will prevail when no rule applies.
Christian Flat Track Ministries - Adam Phillips (CFTM) and Bill Goebel (Wauseon National).

The Wauseon National Meet is hosted by: Lake Erie Chapter, Maumee Valley Chapter, Ohio Valley Chapter, River Valley Chapter and the Wolverine Chapter.
Over 500 dealers vend parts and motorcycles that are over 35 years old. There are field games on Saturday morning, a Saturday night barbecue banquet,
and a judged antique bike show on Sunday morning. For vendor pre-registration contact Mike Skopec 269-362-7951
General Information is located at Rider Registration. Lost & Found is located at Rider Registration.

Other Flat Track Races of Interest:
Friday, August 26, 2016 - Sutrgis, South Dakota. Spirit of Sturgis - Half Mile Vintage M-C Races. Contact Brittney Olsen (605) 290-4236 spiritofsturgis@gmail.com
Frida, September 2, 2016 - Davenport, Iowa - Mississippi Valley Fairgrounds - Matt George (515) 202-7196
ANTIQUE MOTORCYCLE CLASSES
WAUSEON NATIONAL M-C RACES
1-BT
BOARD TRACK – TEENS THRU 1928
1. No brakes.
2. No gearbox or clutch (if running, transmission must be locked in one gear).
3. Rolling start.
4. Wheels & Tires: 28 x 2 1/4 ribbed racing tires on clincher rims or 28 x 3 tires on clincher rims or 21 x 3 Avon-style ribben Speedmaster tires on 21 inch drop-center rims. Button tread or Non-Skid clincher tires can also be used.
5. Handlebars must drop below the horizontal plane of the motorcycle.
Click here for: Guidelines to Building a Board-track Racing Motorcycle
2-HS
HAND SHIFT –1936 THRU 1951
1. No brakes and rigid frame.
2. Hand shift and foot clutch.
3-BRKL250
BRAKELESS FOOT SHIFT 250cc THRU 1967
1. No brakes, no aftermarket swing arm frames.
2. 250cc short track and ½ mile machines.
3. Engines produced 1967 model year and before (examples: Triumph Cub, BSA C-15, Honda Hawk, Bultaco Metisse).
4. Aftermarket rigid frames such as cates and sonic weld may be used.
4-BRKL500
BRAKELESS FOOT SHIFT 500 OHV – 750 SV THRU 1967
1. No brakes and rigid frame.
2. Foot shift and hand clutch.
3. 750cc side valve, 500cc overhead valve.
5-S.Era
SPANISH ERA THRU 1979
1. Rear brake required.
2. Bultaco, Ossa, Montesa, Carabela.
3. Twin shocks.
6-V250/360
VINTAGE 250/360 THRU 1981
1. Rear brake required.
2. Air cooled engines singles or twins.
3. Two stroke or four stroke motors.
4. Carburetor size maximum - 36mm on 4stroke and 40mm on 2stroke.
7-70'sSingles
SEVENTIES SINGLES THRU 1980
1. Rear brake required.
2. Honda Ascot's are legal.
3. Must be a twin shock frame.
8-80'sSingles
EIGHTIES SINGLES THRU 1989
1. Rear brake required.
2. Air cooled single.
9-Vintage Twins
VINTAGE TWINS THRU 1983
1. Rear brake required.
2. Twin shocks on XR750 and RS750.
3. 42 mm forks are legal.
4. No larger than a wm5 rear wheel.
10-SPW
SPEEDWAY 500cc
1. No brakes
2. Methanol fuel.
3. 19"or 22" rear wheel legal.
4. Single or 2-speed trans. legal.
5. Speedway or Long Track chassis legal.
Award Classes - $30.00 pre-entry ($35.00 post-entry - postmarked after 6-11-16)
Cash Classes - $45.00 pre-entry ($50.00 post-entry - postmarked after 6-11-16)
YouTube Video from the Wauseon National
Wauseon National M-C Race 2012 - Mia & Chew
Wauseon Racers - Pusherman Racing
Thor racing @ Wauseon - Wheels Through Time
Field Games @ Wauseon - Wheels Through Time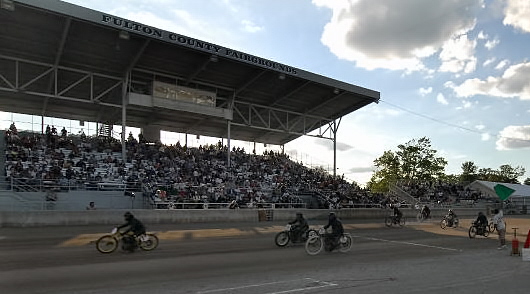 The Board Track class (teens through 1928) take to the track at Wauseon.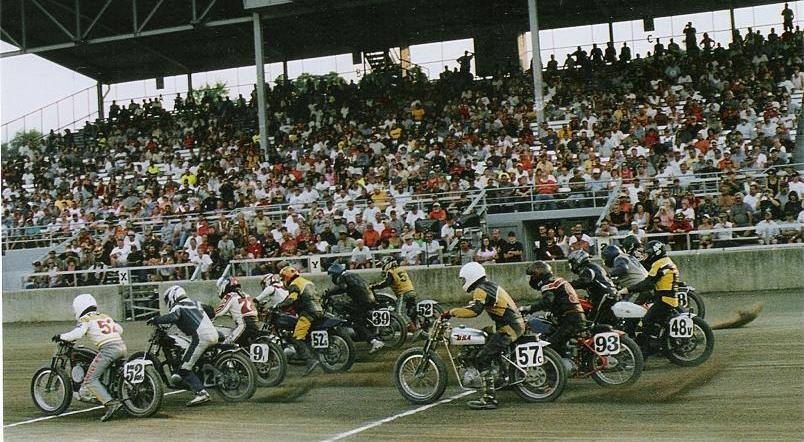 Start of the 500 Brakeless Final in Wauseon.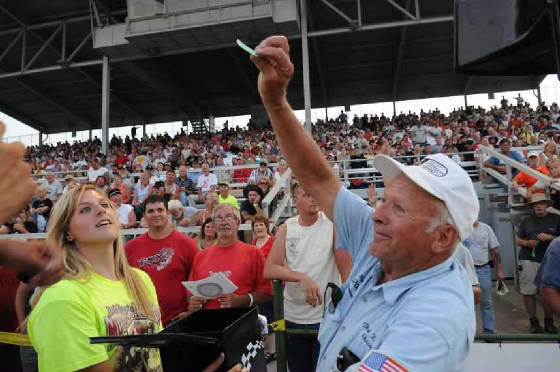 Three time Daytona Winner and 2010 Wauseon National Grand Marshal Dick Klamfoth
helps out with the raffle and pulls the winning ticket.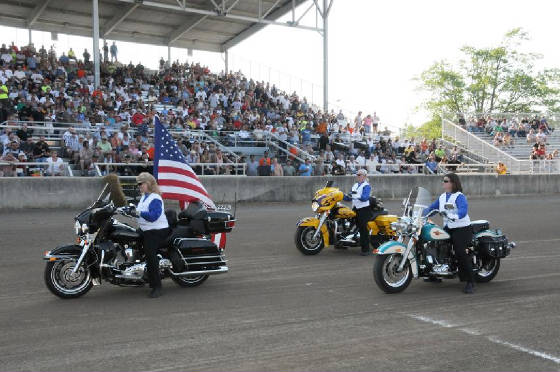 The Motor Maids Parade Lap during Opening Ceremonies.

Click on the photo to see the TV26 interview