Friday 6:30 PM
July 15, 2011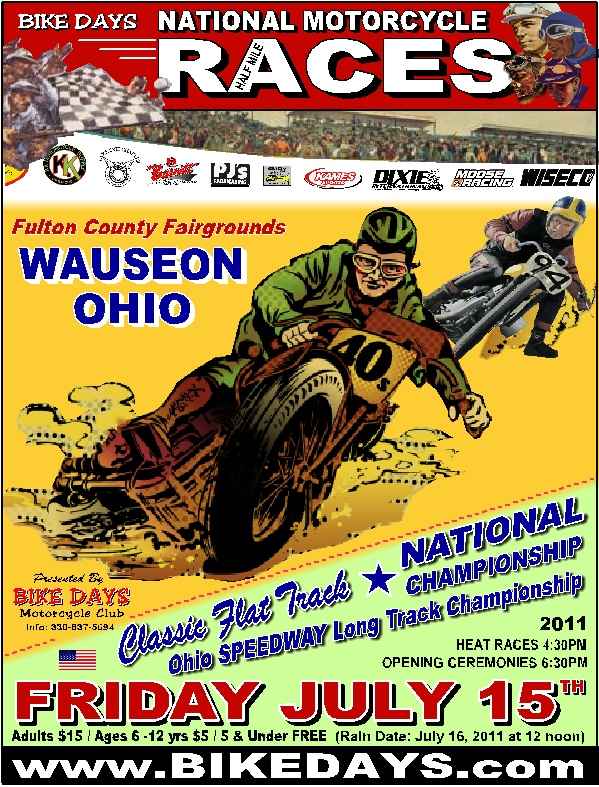 ANTIQUE MOTORCYCLE RACES AT THE WAUSEON NATIONAL

JULY 15, 2011

RESULTS (RACE REPORT/STORY COMING SOON)

1-BT - BOARD TRACK Teens thru 1928
1st
b52
CARL
ESTES
LOVELAND
OH
HD
Pusherman Racing - Board Track Bike Year 1928
2nd
22
MATT
WALKSLER
MAGGIE VALLEY
NC
HD
WHEELS THROUGH TIME MUSEUM
3rd
25x
JOHN
RHODES
RICHMOND
VA
EXC
Board track bike year - 1925
4th
21x
MICHAEL
LANGE
BIG BEND
WI
HD
Board Track bike year - 1921


5th
151
MIKEAL
LONGORIA
LEBANON
OH
HD
Pusherman Racing
Board Track bike year - 1925
6th
11
ARIC
LIPPOLDT
CLEAR SPRINGS
MD
HD
7th
5
DAVID
THOMPSON
LINCOLN
NE
IND
Board Track Bike Year - 1917
8th
58
KRIS
THOMPSON
LINCOLN
NE
IND
Board Track bike year - 1919
9th
14
KENNETH
CURTIS
LEICESTER
NC
HD
Bike Year - 1914
10th
14a
WAYNE
ALBERTSON
EGG HARBOR CITY
NJ
POP
BT Bike Year 1915
11th
88
FRANK
RICK
ELKHART LAKE
WI
IND
Board Track bike year - 1913
12th
33
BILL
RODENCAL
WAUKESHA
WI
HD
HARLEY DAVIDSON MUSEUM, CARMEX N. VISA, FATDOG RACING
13th
12i
JAMES
SHOST
CORAOPOLIS
PA
IND
Board Track bike year - 1912
2-LW165 - LIGHTWEIGHT 1948 thru 1966
1st
63
LARRY
GILLESPIE
NASHPORT
OH
HD
JIM'S hd, CLASSIC CYCLE, TURTLE RACING
2nd
68
BARRY
BAKER
GROVE CITY
OH
HD
CLASSIC CYCLE, TURTLE RACING
3rd
77
TOM
RAMBOW
COLORADO SPRINGS
CO
HD
JIM MASTERS
4th
86
KENNY
THOMAS
DAWSON SPRINGS
KY
HD
MY WIFE SYLVIA
5th
00
WAYNE
ALBERTSON
EGG HARBOR CITY
NJ
HD
3-BRKL250 - BRAKELESS FOOT SHIFT 250cc thru 1967
1st
19f
CARL
FORKEY
NEW CASTLE
PA
HD
JOHN PETRO, BARB FORKEY
2nd
35
JOHN R
BOVA
WADSWORTH
OH
BUL
JOHNNY'S VINTAGE MOTORCYCLES , COLONY MACHINE
3rd
79
TOMAS
COLE
STERLING
IL
HD
LANCASTOR SPRINTS
4th
98y
DOUG
YOUNG
NAPLES
FL
BSA
5th
11
RON
KRETZ
EUCHLID
OH
MON
Tool Salvage & Motorcycle Works,
4-BRKL500 - BRAKELESS FOOT SHIFT 500 OHV - 750 SV thru 1967
1st
4
DANNY
VRANA
RANDOM LAKE
WI
HD
FRED PETTIS, Mikes Motorsports, Mom & Dad
2nd
95
MERLYN
WERTZ
WHEELER
MI
TRI
FIRST KLASS GLASS
3rd
31m
ANDY
MCROBERTS
HARRIETTA
MI
RE
DOUG GROP, BRUCE ARGETTSINGER, MCROBERTS MACHINE SHOP
4th
28
GENE
ATHERTON
CONSTANTINE
MI
TRI
RON ATHERTON RACING, RON'S CYCLE, RON MULLIN'S AUTO
5th
52g
PAUL
BAILEY
LIBERTY CENTER
OH
TRI
Me
6th
52x
CHAD
RALL
MANSFIELD
OH
JAW
BREECE H-D,
7th
9l
ALAN
LONNEVILLE
TWINSBURG
OH
TRI
LOWBROW CUSTOMS,
8th
67j
BRUCE
ARGETSINGER
BRANFORD
CT
RE
enfieldracing.com,
9th
41n
RICHARD
HILBERT
HAGERSTOWN
IN
TRI
5-V250/360 - VINTAGE 250/360cc thru 1981 (Classic Flat Track Series)
1st
27
JORDAN
BABER
PALMYRA
IA
HON
DAD, JAMES OIL, DETAILS PLUS, HOTSHOES BY GEO, MAX LEATHERS
2nd
16x
JOHN
TEJZHMA
MUSKEGON
MI
YAM
TOM BETHKE
3rd
7f
ANDY
MCROBERTS
HARRIETTA
MI
CA
DOUG GROP, BRUCE ARGETTSINGER, MCROBERTS MACHINE SHOP
4th
14
RICH
LONG
MASSILLON
OH
HON
BONNIES ENGRAVERS GALLERY, CAVEMAN PLATES, BELL HELMETS
5th
73
DAVID
GREIDER
MORENCI
MI
HON
ELARTON MOTO CONCEPTS
6th
30
JIM
BROCK
GRANT
MI
YAM
SELF
7th
169
LARRY
SOLES
STRYKER
OH
YAM
SolesMotorSports, DPECTRO OILS, PARTS UNLIMITED
8th
69
ADEM
KIRIAN
BOWLING GREEN
OH
HON
BG MOTOR CYCLE, SPECTRO OILS, SOLES WATESPORTS, STRYKER
9th
957
BILL
STONEMAN
EASTLAKE
OH
YAM
GRAND ROCK TRUCK EXHAUST SYSTEMS
10th
71
JEFF
WALASINSKI
SYLVANIA
OH
YAM
PR Racing
11th
286
RON
KRETZ
EUCHLID
OH
YAM
Tool Salvage & Motorcycle Works,
12th
57
JUSTIN
THOMAS
GRAND RAPIDS
MI
CA
CURV WEAR.COM
13th
58p
STEVE
PACKARD
GRAND HAVEN
MI
YAM
14th
81
RONNIE
ATHERTON
WHITE PIGEON
MI
ROK
RONS CYCLE
15th
85
BOB
BULMER
,MORRICE
MI
HUS
6-VOPEN - VINTAGE OPEN AMATEUR thru 1980 (Classic Flat Track Series)
1st
15
AARON
LONG
FINDLAY
OH
YAM
ENGRAVERS GALLERY, CAVEMAN PLATES, VORTEX, UTOPIA, BELL
2nd
15x
ERIC
KOLENDA
GRAND RAPIDS
MI
TRI
KOLENDA KENNELS , JOHN & SUSAN KOLENDA
3rd
77b
JOE
BAKER
COLUMBIA STATION
OH
YAM

MOM & DAD, FTWCO
4th
27
JORDAN
BABER
PALMYRA
IA
HON
DAD, JAMES OIL, DETAILS PLUS, HOTSHOES BY GEO, MAX LEATHERS
5th
40
TEDD
SMITH
DELTA
OH
YAM
6th
57
JUSTIN
THOMAS
GRAND RAPIDS
MI
YAM
CURV WEAR.COM
7th
3x
DUANE
WORDEN
CANAL FULTON
OH
YAM
Worden's Custom Cycle Inc., BOB'S BRITISH BIKES, PL LANDSCAPE
8th
26
TODD
ELARTON
ADRIAN
MI
YAM
ELARTON MOTO CONCEPTS
9th
957
BILL
STONEMAN
EASTLAKE
OH
YAM
GRAND ROCK TRUCK EXHAUST SYSTEMS
10th
6
GERALD
CHISM
SPRINGFIELD
MO
HD
THE ANCHORS STORAGE, STOCKTON, MO

11th
35
BILLY
BARRET
GARRETSON
SD
HON
THE COMPOUND, MAX

LEATHERS,HOTSHOE BY GEORGE
12th
66d
BILL H
DUNLAP
SYCAMORE
OH
YAM
SELF - DUNLAP EXCAVATING
13th
9
ADEM
KIRIAN
BOWLING GREEN
OH
TRI
BG MOTOR CYCLE, SPECTRO OILS, SOLES WATESPORTS, STRYKER
14th
3
LARRY
SOLES
STRYKER
OH
YAM
SolesMotorSports, DPECTRO OILS, PARTS INLIMITED
15th
50h
TERRY
HIGGINS
ELYRIA
OH
YAM
16th
80
STEVE
HEILMAN
CYGNET
OH
HON
HEILMAN FARMS
17th
45
DAN
SCHMIDT
CHICAGO
IL
TRI
Team Chicago.TV, wwwTeam Chicago.TV, Torco Racing Oil
18th
38
TERRY
WEAVER
BERKEY
OH
YAM
Berkey Vintage Bike Barn
19th
27/
JIM
HENSON
HOWARD
OH
HON
Moto Tech USA
7-HS - HAND SHIFT 1936 thru 1951 (Classic Flat Track Series)
1st
66
GEORGE
ROEDER

II
MONROEVILLE
OH
IND
Roeder Racing & Kelly George
2nd
6
GERALD
CHISM
SPRINGFIELD
MO
HD
THE ANCHORS STORAGE, STOCKTON, MO
3rd
60
MATT
WEAVER
COSHOCTON
OH
IND
Classic Cycle
4th
93
DENNIS
CLARK
KETTERING
OH
HD

45 Restoration & OWNER
5th
53
BRENT
JOHNSON
LIMA
OH
IND
DIRT ROAD RACING, SMOKEY'S CLASSIC MC

6th
72k
THOMAS
KNIGHT
GRAND RAPIDS
MI
IND
ROCKY INDIAN SUPPLY, CUSTOM MACHINE BY FARRLY
7th
33a
JEFFREY
BAER
SELLERSVILLE
PA
HD
Hand shift - bike year 1938 Sponsored by ME!
8th
4l
LARRY
BARNES
N. LAWRENCE
OH
IND
9th
58
CARL
TEMPLE
DAVENPORT
IO
IND
Bucks Indian of Romney WV, DON LARUE OF MUSCABINE IOWA
8-Pro70'sSINGLES - VINTAGE PRO 70's SINGLES thru 1980 (Classic Flat Track Series)
1st
73f
THOMAS
ENGLEHART
ZANESVILLE
OH
HON
EDGE ONE RACING, MIRACLE CUSTOMS, DURRELLE RACING
2nd
39
NATHON
WILSON
ORLANDO
FL
YAM
KYLE LONG RACING,
3rd
1
TROY
JOHNSON
MARION
WI
YAM
Johnson Racing, Wags Gunsmithing, CTK Precision, ALEX JOHNSO
4th
90
LONNIE
VANDERPOOL
MORENCI
MI
HON
5th
10g
JOHNNY
ISAACS
BRISTOW
OK
TRI
TOTAL PERF RACERS, Red Rock Storage


6th
31f
JUDSON
LINDER
SALEM
OH
HON
FTW CO, PERRY CYCLE SERVICE,
7th
96
JARVIS
KAPPLINGER
FARWELL
MI
HON
CENTRAL MOTOR SPORTS
8th
45
KEVIN
WILSON
PLAINFIELD
IN
YAM
KYLE LONG RACING, AERODINE COMPOSITES GROUP
9-Pro80'sSINGLES - VINTAGE PRO 80's SINGLES thru 1989 (Classic Flat Track Series)
1st
73f
THOMAS
ENGLEHART
ZANESVILLE
OH
HON
EDGE ONE RACING, MIRACLE CUSTOMS, DURRELLE RACING

2nd
47b
JIM
BOLENBAUGH
HUDSON
MI
ROT
JIM BAUERLE (JB RACING)
3rd
1
TROY
JOHNSON
MARION
WI
YAM
Johnson Racing, Wags Gunsmithing, CTK Precision, ALEX JOHNSO
4th
31
RON
WILLIAMS
GRANGER
IN
ROT
NO RAMP TRAILERS
5th
59k
STEVE
KASTEN
HATLEY
WI
YAM
S&K SERVICE OF HATLEY WI
6th
52c
DAN
CRAWFORD
MARLETTE
MI
CA
SELF
7th
33
TERRY
VESTAL
TWIN LAKES
WI
ROT
REDLINE CYCLES, ADDISON DETAILS, DUSTY VESTAL
8th
45
LARRY
HODGES
MEDINA
OH
ROT
SELF
9th
73
DAVID
GREIDER
MORENCI
MI
ROT
ELARTON MOTO CONCEPTS
10th
44f
NICHOLAS E
EVANS
GALION
OH
ROT
Shindeldecker Racing, KK Motorcycle Supply, Daves Cycle, Wetzel
11th
23
NATHAN
LONG
ROSEWOOD
OH
ROT
ENGRAVERS GALLERY, BELL HELMETS, SADDLEMAN, OURY GRIPS
12th
11x
JEFF
HIESS
FT WAYNE
IN
ROT
HOUSE HONDA & YAMAHA, I69 TRAILERS, FAST TOOLS
10-ProTWINS - VINTAGE PRO TWINS thru 1983 (Classic Flat Track Series)
1st
82
JACK
WARREN
MILLINGTON
MI
TRI
First Klass Glass Inc, Skip Wertz Racing
2nd
59k
STEVE
KASTEN
HATLEY
WI
YAM
S&K SERVICE OF HATLEY WI
3rd
15x
ERIC
KOLENDA
GRAND RAPIDS
MI
TRI
KOLENDA KENNELS , JOHN & SUSAN KOLENDA
4th
95
MERLYN
WERTZ
WHEELER
MI
TRI
FIRST KLASS GLASS
5th
22x
TONY
GIORNO
SALEM
WI
HON
MAP CYCLES,

REDLINE CYCLES, SPECTRO OILS, TRI-R DISTRIBUTING
6th
38
TERRY
WEAVER
BERKEY
OH
YAM
Berkey Vintage Bike Barn
7th
88l
DANNY
VRANA
RANDOM LAKE
WI
HD
FRED PETTIS, Mikes Motorsports, Mom & Dad
11-SPEEDWAY - OHIO SPEEDWAY LONG TRACK CHAMPIONSHIP
1st
52x
CHAD
RALL
MANSFIELD
OH
JAW
BREECE H-D,
2nd
1
DANIEL
WEICHT
NORTH WEBSTER
IN
JAW
GATEWOOD ENGINEERING AND RACE SUPPORT (GEARS)
3rd
32
STEPHEN
BRINKER
PLAINFIELD
IL
JAW
4th
33e
MICHAEL
CALLEN
GALESBURG
MI
JAW
CAL AUTO AND CYCLE PARTS, CAL ELECTRIC, JERRY CALLEN
5th
82
CHRIS
HATHAWAY
SYRACUSE
IN
JAW
6th
52
RONNIE
RALL
ENGEDINE
MI
JAW
7th
63
MICHAEL
DE CHAMPLAIN
DETROIT
MI
JAW
Round Trip Racing
8th
151
TOM
KEENE
CENTERVILLE
OH
JAW
KK MOTORCYCLE SUPPLY, PUSHERMAN RACING, KEENE RACING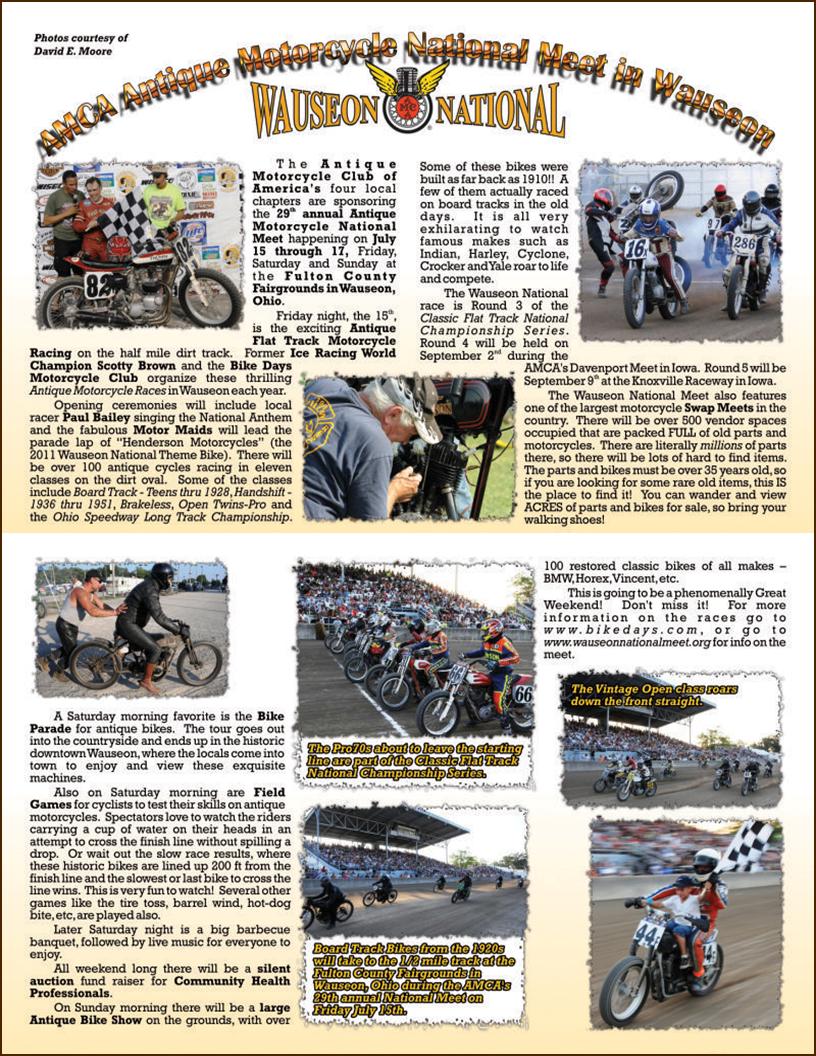 Bike Days at the Fulton County Fairgrounds in Wauseon, Ohio Friday July 15th
Flat Track Racing on the limestone half mile, during the Antique Motorcycle Club of America's
" Wauseon National" 29th annual meet.
Featuring:
The Classic Flat Track National Championship Series Round III
The Ohio Speedway Long Track Championship
Wauseon National Antique Motorcycle Race July 15, 2011 PreEntry form.pdf
Click on the photo to see the TV26 interview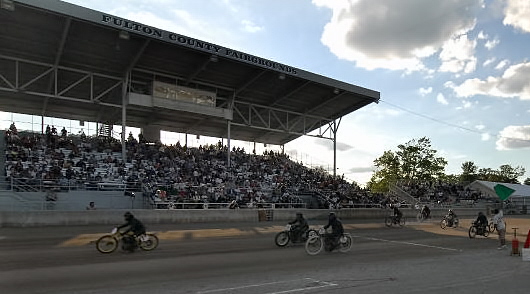 The Board Track class (teens through 1928) take to the track at Wauseon.
Click on the Wauseon page for more info about the Wauseon National July 16, 2010

YouTube Video from the Wauseon National
Wauseon Racers - Pusherman Racing
Thor racing @ Wauseon - Wheels Through Time
Field Games @ Wauseon - Wheels Through Time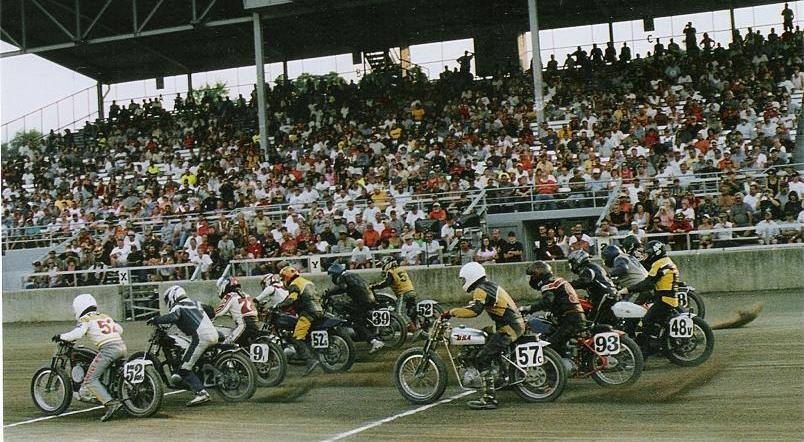 Start of the 500 Brakeless Final in Wauseon.


AMCA Wauseon National Half Mile and Speedway Long Track National Championship July 16, 2010
Wauseon, Ohio – Fulton County Fairgrounds
Present by the Bike Days Motorcycle Club
By Max Action
Board Track, Classic Flat Track and Speedway Long Track Racing thrill and amaze all in action-to-the-max AMCA National Motorcycle Races at the Wauseon, Ohio Fulton County Fairgrounds, July 16, 2010!
The racers arrived at the beautiful fairgrounds before practice (2 pm) on a warm and sunny day. The crushed limestone track was as smooth as glass, and as practice started, everyone could see we were in for some great racing action today.
The opening ceremony started at 6:30 pm with a parade lap by the Motor Maids, followed by the 2010 Wauseon National Grand Marshal Dick Klamfoth. Paul Bailey did a great job singing the National Anthem, and then the Main Event Races everyone had come for began.
Linda Blum #98 of Schaumburg, IL fought tooth and nail in the 165 Lightweight Class (which she won in 2008) to beat Alan Lyons #65 (last year's winner) from Springfield, IL and Craig Breckon #77 out of Sparta, Michigan took third place, all on Harley Davidson's. What a rivalry!
Next came the Brakeless 250 Class in which Carl Fonkey #19f from New Castle, PA won on a Harley Davidson. John Bova #35 aboard a Bultaco of Wadsworth, Ohio took second; and Johnny Isaacs #10g out of Britow, OK on a Triumph captured third.
In the Board Track Race Carl Estes #652 of Loveland, Ohio won; Pat Murphy #1 of Marcellus, NY got second; and Mike Longoria #151 ended up third. All mounted on Harley Davidson's.
Then the "big iron" Brakeless 500 Class lined up. The Atherton Family of great Michigan Motorcycle Racing competitors showed Gene #28 racing out of Constantine, MI and Ronnie #81 from White Pigeon, MI took first and third. Doug Horner #53h of Gates Mills, nailed down second; they all were riding Triumphs.
The Speedway "B" Main had Chris Hathaway #82 from Syracuse, IN come out victorious; Mike Callen #33e of Galesburg, MI was second; and Kevin Sexton #60f out of Elyria, OH ended up third.
When the Vintage 250/360 came to the starting line, there was a lot of tough competition. Tom Morgan #91f of Niles, Ohio on a Kawasaki (who was second in 2009 and won the Vintage 600 Class in 2009); John Tejchma #16x from Muskegon, MI atop a Yamaha; Dave Grieder #0 riding out of Morenci, MI on a Honda and Justin Thomas #57 of Manitou Beach, MI on a Can Am who all finished their heats in top positions. From the start, it was a fight for top positions, but Tom and John separated from the pack into the lead, and they crossed the finish line in the order listed. Baber #27, Kennedy #54k, Kretz #286 and the rest of the pack didn't fair as good in the Main Event as in their Heats.
Pro Singles through 1980 saw Tom Morgan #91f atop a Honda win again Tom Englehart #43f of Zanesville, Ohio on a Honda also took second; and Nathan Long #15 from Rosewood, Ohio riding a Yamaha captured the third position. Issacs #10g, Johnson #31 and Baker #77b (all on Yamaha's) had to settle for third, fourth and fifth position.
As the Vintage Open "hotshoes" lined up, you could feel the friction in the air, on this hot (90 degree) July summer day, it seemed like a bomb was going to blow off. In one of the Open Heat Races, a rider went down in the middle of the pack in turn 1 and up ended the class a little. Baber #27, Mayer #91x and John Kolenda #15 weren't able to make the Main. When the light flashed green Eric Kolenda #15x from Grand Rapids, MI on a Harley Davidson exploded into the lead. He had won his heat race and showed it was no flook by beating Aaron Long #15 (second) out of Findlay, Ohio and Tedd Smith #40 (third) from Delta, Ohio both on Yamahas. Swander #67), Rich Long #14 and the rest of the pack followed them across the finish line.
In the Pro 80's Singles thru '89 Class, Nick Evans #44f of Galion, Ohio atop a Rotax won his heat and the Main. Troy Johnson #31 from Marion, WI also on a Rotax won his heat, but had to settle for second in the main. Tom Englehart #43f nailed down third, Nathan Long #14 was fourth, and Lee Johnson #66k ended up fifth. Bolenbaugh #47b and Haas #75 DNS (did not start).
Jeff Orosz #1, all the way from Caistorville, Ontario won the Speedway A Main and in so doing, captured the National Long Track Chamionship again. Warren Diem #31 of Gap,PA took second and Dan Weicht #30 out of North Webster, Indiana got the third position.
The "old iron" Hand Shift Class came to the line; 8 or 9 good old antique American Motorcycles; but before the green light could flash, Carl Temple's Indian #58 burst into flames. He got off the burning bike as track crew members and Mike Callen with a chemical fire extinguisher put it out. There was some close action but when it was over, Doug Horner #53h from Gates Mills, OH on an Indian crossed the finish line first (as he did in 2008); Dennis Clark #93 of Kettering, OH aboard a Harley Davidson was second and Brent Johnson #53 out of Lima, Ohio and Matt Weaver #60 from Coshocton, Ohio both on Indian's took third and fourth (the same positions as their heat race). The rest of the riders followed them.
The Pro Twins thru 1983 had many Michigan riders that are well known. Sparks #27S, Bannerman #88b, Kennedy #54k, Speaker #41s and May #55m, Merlyn Wertz #93 and of course Eric Kolenda #15x; but they didn't dominate the class. Jack Warren #82 hailing from Millington, MI and Danny Vrana #88 of Random Lake, WI both on Triumphs captured first and second as they did in their heat races. Eric Kolenda #15x secured third and Justin Zeigler #89f out of Frederickstown, Ohio atop a Triumph took fourth.
The track crew kept the track in great shape; the officials and scorekeepers made the racers stay righteous and everything running smooth; and the racers thrilled and amazed everyone who was lucky enough to be there for another year of spectacular Vintage Motorcycle Racing at the wonderful Fulton County Fairgrounds in Wauseon, Ohio. My hat is off to Scott Brown (the Promoter), the Bike Days Motorcycle Club and all the racers for putting on the greatest race we've seen this year.
The 2011 Wauseon National Antique Motorcycle Races will be on Friday, July 15.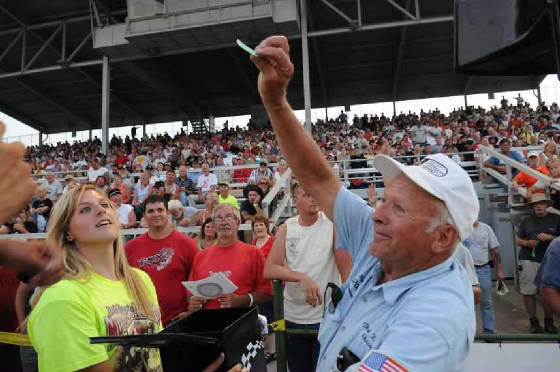 Three time Daytona Winner and 2010 Wauseon National Grand Marshal Dick Klamfoth
helps out with the raffle and pulls the winning ticket.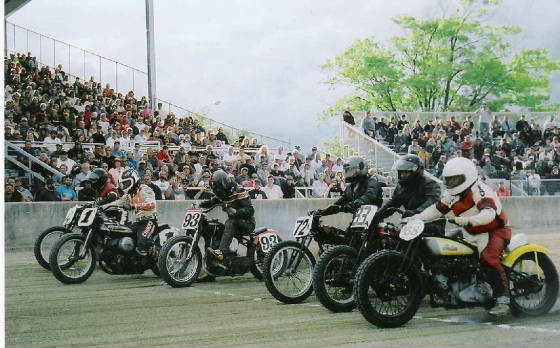 Start of the "Hand Shift, Foot Clutch" Race at Wauseon.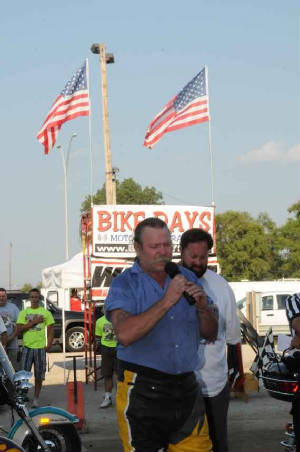 Paul Baily singing the National Anthem.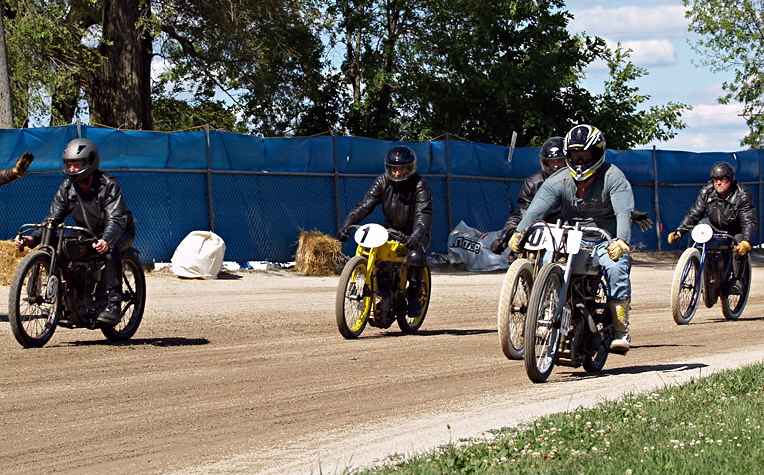 Board Track (teens thru 1928) take to the half mile limestone track at the Fulton County Fairgrounds, Wauseon, Ohio during the AMCA National Meet.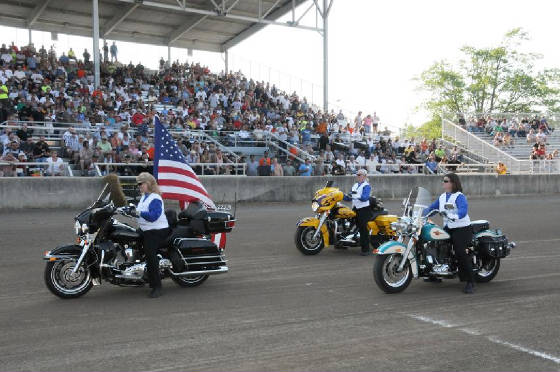 The Motor Maids Parade Lap during Opening Ceremonies.

EVENT INFORMATION
2011 BIKE DAYS WAUSEON

Event: Bike Days –AMCA Wauseon National
Half Mile Antique Flat Track Motorcycle Racing
Classic Flat Track National Championship Series – Round 3
Ohio Speedway Long Track Championship

During the Antique Motorcycle Club of America 29th Annual Meet

Date: Friday, July 15, 2011

Event Location: Fulton County Fairgrounds
8514 SR 108
Wauseon, Ohio 43567
Directions: Ohio Turnpike Exit 34 – Go ¼ mile north on State Route 108 to fairground entrance. (Northwestern, Ohio)
Pit Gate: North Gate for entrance into the pits. (look for signs)

Promoter: Bike Days LLC Motorcycle Club
Contact: Scotty Brown
Phone: (330) 837-5694 Fax: (330) 837-4146
Website: www.bikedays.com Email: bike.days[at]yahoo[dot]com

Mailing Address: Bike Days LLC
1245 Cleveland St SW
Massillon, Ohio 44647

Schedule: Friday, July 15, 2011
10:00 am Pit Gate Opens – (North Track Gate)
Registration Opens - Bike Days Rider Registration trailer (pit area)
1:30 pm Registration Closes
2:00 pm Riders' Meeting @ Registration Trailer (all riders must attend)
General Admission gates open (Grandstands)
2:15 pm Practice by class order posted in the pits.
4:30-5:45pm Heat races will start, same order as practice schedule. Be ready to race.
6:30 pm Opening ceremony.

General Admission: Adult $15.00
(Grandstands) Kids Ages 6-12 $5.00
Ages 5 and under FREE

Pit Pass: Adult $20.00
(Riders & Crew) Ages 6-12 $10.00
Ages 5 and under FREE

Wristbands: Your wristband is your event ticket/pit pass and must be worn at all times.
If you leave the facility, you must have it on to re-enter. This is your gate ticket. Please do not take it off.

Entry Fees: Amateur: Pre-Entry $30.00 per class (postmarked on or before June 15, 2011)
Post Entry $35.00 per class

Pro / Speedway: Pre-Entry $45.00 per class (postmarked on or before June 15, 2011)
Post Entry $50.00 per class

Pre-Entry Deadline: June 15, 2011 (postmarked) Sorry no refunds or cancellations.

Bike Days LLC reserves the right to accept or reject any and all race entries.

The race pre-entry is not a pit pass. Riders and crew will continue to purchase pit passes at the pit gate entrance upon arriving at the fairgrounds.

Pre-Registered Riders are required to "check in" at the Bike Days Rider Registration trailer between 10:00 am and 1:30 pm.

Event T-Shirts: Each rider that pre-registers by June 15, 2011 (postmarked) will receive one FREE Bike Days t-shirt. (One free t-shirt per pre-entered rider)
Please remember to indicate your t-shirt size. Additional t-shirts may be purchased in the pit area.

Release of Liability: You are responsible for your own safety. All persons entering the pit area must sign the liability release waiver.
Parents or legal guardians must sign the release for children under 18 years of age.

Pit Area for "direct drive" motorcycles. There will be a specific pit area assigned for Speedway and Board Track. Signs will designate area.

Number Plates: Number plates must be located on the front and left side of the bike. Numbers must contrast with color of plate (example: white plate with dark numbers).
Please make sure they are readable so the scorekeepers can score your number correctly. If you do not have a readable number on the front and left side, you will not be scored.
Duplicate numbers in a class will be asked to add an extra number or letter to their plate.

All classes of motorcycles must have working handlebar mounted kill switch. Please baffle open exhaust.

Awards – Checkered flag to first place winners and plaques awarded to second and third finishing positions plus contingency prizes.

NO Pit Racing. - 5 mph only in the pits. No bikes or quads outside the track. No unsupervised children on motorcycles, quads or bicycles.

Camping - Racers and crew are permitted to camp overnight in their pit area. No water or electric hook-ups. No campfires. Prohibited: fireworks, firearms and glass containers.

Food Concessions – Available in the pit area. Race Rain Date – Saturday, July 16, 2011 at 12 noon.

The Wauseon National Meet is hosted by: Lake Erie Chapter, Maumee Valley Chapter, Ohio Valley Chapter and the River Valley Chapter.
Over 500 dealers vend parts and motorcycles that are over 35 years old. There are field games on Saturday morning, a pig roast on Saturday evening
and a judged antique bike show on Sunday morning. For vendor pre-registration contact Fred Davis 419-929-0291
General Information is located at Rider Registration. Lost & Found is located at Rider Registration.

Hotel information: www.hotel-guides.us/ohio/toledo-oh-hotels.com
Pets: All pets must be on a leash. No vicious or barking pets permitted.






Wauseon National Antique Motorcycle Race July 15, 2011 PreEntry form.pdf



ANTIQUE MOTORCYCLE CLASSES
AMCA WAUSEON NATIONAL RACES

1-BT
BOARD TRACK – TEENS THRU 1928
1. No brakes.
2. No gearbox or clutch (if running, transmission must be locked in one gear).
3. Rolling start.
4. These motorcycles were raced originally with clincher rims and tires and late twenties drop center rims and tires. While safety is our major concern, please keep your tires and rims styled to the period.
5. Low rise handlebars styled to the period.


2-LW165
165cc LIGHTWEIGHT – 1948-1966
1. Rear brakes required – no front brakes.
2. Years of bikes are 1948-1966 Harley-Davidson.
3. 1948-1966 engines.
4. Stock frames from 1948-1966 hard tail or swing arm frame. Frame may be braced for extra support.
5. You must use stock cylinders 1948-1966, but may alter intake and exhaust ports.
6. Must run stock gas tank.
7. No reed valves intake.
8. You may change the head, carburetor and exhaust pipes.
9. You can change the wheels, handle bars, seat and front end if you wish.

3-BRKL250
BRAKELESS FOOT SHIFT 250cc THRU 1967
1. No brakes, no aftermarket swing arm frames.
2. 250cc short track and ½ mile machines.
3. Engines produced 1967 model year and before (examples: Triumph Cub, BSA C-15, Honda Hawk, Bultaco Metisse).
4. Aftermarket rigid frames such as cates and sonic weld may be used.

4-BRKL500
BRAKELESS FOOT SHIFT 500 OHV – 750 SV THRU 1967
1. No brakes and rigid frame.
2. Foot shift and hand clutch.
3. 750cc side valve, 500cc overhead valve.

5-V250/360
VINTAGE 250/360 THRU 1981
1. Brakes Required.
2. Air cooled engines singles or twins.
3. Two stroke or four stroke motors.
4. Carburetor size maximum - 36mm on 4stroke and 40mm on 2stroke.

6-Vopen
VINTAGE OPEN AMATEUR THRU 1980
1. Rear brake required.
2. All Honda Ascot's are legal.
3. Must be a twin shock frame.

7-HS
HAND SHIFT –1936 THRU 1951
1. No brakes and rigid frame.
2. Hand shift and foot clutch.

8-Pro70'sSingles
VINTAGE Pro70's SINGLES THRU 1980
1. Rear brake required.
2. All Honda Ascot's are legal.
3. Must be a twin shock frame.

9-Pro80'sSingles
VINTAGE Pro80's SINGLES THRU 1989
1. Rear brake required.
2. Air cooled single.
3. Twin Shocks.

10-ProTwins
VINTAGE OPEN PRO TWINS THRU 1983
1. Rear brake required.
2. Twin shocks on XR750 and RS750.
3. 42 mm forks are legal.
4. No larger than a wm5 rear wheel.

11-SPW
SPEEDWAY 500cc
1. No brakes
2. Methanol fuel.
3. 19"or 22" rear wheel legal.
4. Single or 2-speed trans. legal.

5. Speedway or Long Track chassis legal.


Amateur classes - $30.00 entry ($35.00 after 6-15-11)
Pro classes - $45.00 entry ($50.00 after 6-15-11)